Search the Web
Use a Search Engine | Use a  Database | Use an Encyclopedia or Dictionary | Evaluating Websites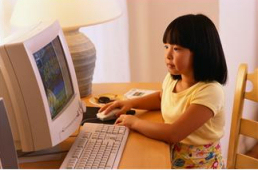 You'll need to use different tools on the web depending on what you're trying to find out.  You can use a Search Engine for a quick answer.  If you just want a definition or description, you could use a Dictionary.  You can also use a Library Database from home with your library card number. Or try the Kids' World Homework Help.   If you still can't find the information you need, you can Ask a Librarian, in person, by phone, by e-mail, or through online real-time reference. Or take advantage of Tutor.com, where you can get free, one-on-one online tutoring.
Don't forget -- just because information is on a website doesn't mean it is true.  Learn how to evaluate websites to find the best ones.
---
---
The library subscribes to databases that you can use from home.  Have your library card ready!

Explora from Ebscohost
Find information about animals, arts and music, health, history, people and places, science and math, sports and stories.
Primary Search
Search more than 60 elementary school magazines.  Also provides the American Heritage Children's Dictionary and an image collection of photos, maps and flags.
Novelist K-8
Book recommendations, series, readalikes and book talks for kids.
---
Dictionary and Thesaurus
http://www.wordsmyth.net/
In addition to a regular search, you can do a "sounds-like" search, for when you don't know how to spell the word you're looking up!
---
This video from the Oregon School Library Information System talks about evaluating websites to find accurate information.