Federal Forms | State Forms | Free Tax Assistance from AARP and Vita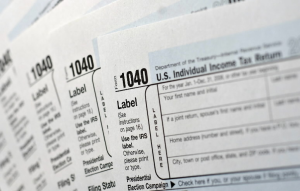 If  you make less than $66,000 you can have your taxes prepared and e-filed for free using Free File brand-name software.   More information:  http://www.irs.gov/uac/Free-File:-Do-Your-Federal-Taxes-for-Free
The Camden County Library branches have paper copies of the federal 1040 tax form.
The State of New Jersey no longer provides paper forms for the public.  You will need to request paper forms from the state, print out forms using a computer, or file your return electronically.
Use the links below to download federal and state tax forms and instructions.   You will need Adobe Acrobat Reader to view these files.
Federal Forms 
Federal forms can be found on the IRS website.  These forms may all be filled in online, or printed out and filled in by hand.  (Instructions for filling out online forms)
If you have questions about your taxes you can use TeleTax, the IRS toll-free telephone service that provides both recorded tax information and automated refund information.
Recorded Tax Information consists of approximately 150 recorded topics that provide basic tax information. This Touch-Tone service is available 24 hours a day, 7 days a week. Select, by number, the topic you want to hear, and then call 1-800-829-4477. You can also use the online version here: http://www.irs.gov/taxtopics/
You can also visit your local IRS Office.
51 Haddonfield Rd.
Cherry Hill, NJ 08002
856-321-1328 
State Tax Forms
Tax booklets and forms were mailed the first week in January to every New Jersey household that filed paper returns without using tax preparation software last year.  If you have not received your booklet by the second week in February, or if you do not expect to receive a booklet and need to obtain one, you can file your taxes online using NJ WebFile, submitted electronically using NJ Fill'nFile or  file using tax software.  If you file your taxes electronically and are due a refund, you will receive it more quickly.
You can also visit a  Division of Taxation Regional Office to obtain forms. Normal hours of operation are 8:30 a.m. to 4:30 p.m. Monday through Friday, except holidays.
Print out forms
You can fill out NJ tax forms online and print them out.  You can also print out NJ tax forms and fill them out by hand.  You can then mail them through the U.S. Post Office.  If you use the library's computers to print out the forms, printouts are $.15 per page.  Be aware that while the forms are just a few pages, instruction booklets are quite long.
Free Tax Assistance
Tax help from VITA (Volunteer Income Tax Assistance) and AARP for low and moderate income taxpayers and seniors. Processing of simple returns only.
NO APPOINTMENTS
FIRST COME – FIRST SERVED
SPACE IS LIMITED
Must bring Social Security card and a current government-issued PHOTO ID.
2019 SCHEDULE
Vogelson Branch
AARP – Tuesdays and Thursdays
February 5 – April 11, 11 a.m. – 1 p.m.
VITA – Thursdays, Feb 7 – April 11, 
1:00 p.m. – 7:00 p.m.
Bellmawr Branch
AARP – Tuesdays, February 5 – April 9, 
10:00 a.m. – 2 p.m.
Riletta L Cream Ferry Avenue
AARP – Mondays, February 4 – April 15, 
10:30 a.m. – 1:30 p.m.
(Closed February 18)
Nilsa I Cruz-Perez Downtown Branch
VITA
Wednesdays, January 30 – April 10, 4 p.m. – 7 p.m.
Fridays, February 1 – April 5, 1 p.m. – 5 p.m.
Saturdays, February 2 – April 6, 10 a.m. – 2 p.m.
(No tax help March 16, 20, 22, 23)
Gloucester Township Branch
AARP – Fridays, February 1 – April 12, 
10:00 a.m. – 1:00 p.m.
Haddon Township Branch
AARP – Tuesdays, February 5 – April 9
12 noon – 4 p.m.
South County
AARP – Mondays and Wednesdays, 
February 4 – April 15, 10 a.m. – 1 p.m.
(Closed February 18)