Multi-Subject | Arts and Crafts | Computer Classes
Multi-Subject
Continue your lifelong learning!  Learn new skills or a new language. These learning tools are only available with a Camden County Library Card.  Create an account and you can keep track of your progress as you increase your knowledge.  Need one-on-one help?  You can connect with a live tutor online through Tutor.com!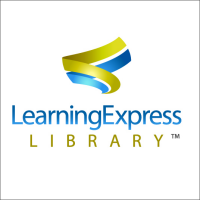 Learning Express Library
Practice tests, exercises, skill-building courses, and information you need to achieve the results you want -- at school, at work, or in life. Looking to land a job? You'll find an entire Learning Center dedicated to helping you get the one that's right for you. You will need to create an account in order to save your test results.  For user name use your library card number.  Create your own password.  Then use your library card number and password each time you return to the site. Learn to use Learning Express Library.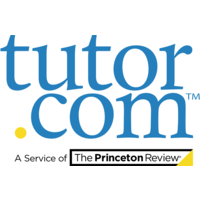 Tutor.com 
One-on-one live online tutoring for students, job seekers, and adult learners through Tutor.com.  Connect to a live tutor through any Internet connection from 2 p.m. to 12 a.m.   Thousands of study, career, and test prep resources are available 24/7.  You can also access Tutor.com through your mobile device. Learn to use Tutor.com.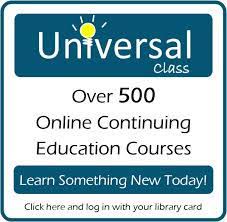 Universal Class
Free and unlimited access to over 500 online courses. Choose from a diverse range of subjects including  computer training,  resume writing, home and garden, health and medicine, hobbies, self-help  and more. Take classes just for fun or earn continuing education units.  Learn to use Universal Class.
Arts and Crafts
Artistworks
ArtistWorks for Libraries provides world-class instruction through self-paced video lessons from Grammy Award-winning music and artistic professionals, offering users everything they need for musical and artistic instruction, from introduction to advanced performance. Learn more.
Creativebug
Creativebug inspires you to create and then teaches you how!  Enjoy unlimited access to over 1,000 online art and craft classes, plus patterns, templates, and recipes. Topics include art & design, sewing, quilting, paper, knitting, crochet, food & home, jewelry, holiday & party, and classes for kids.  Watch videos anytime, anywhere. Learn more.
Computer Classes
Library Databases
 
Use your library card to register for an account and keep track of your progress.
Learning Express Library - Computer Skills Center
Learning Express offers career preparation training, including video courses to learn popular software and computer basics.
Universal Class
Universal Class offers more than 500 online courses for a variety of skills.  Try the multi-session courses in Computer Literacy Level 1 - Computer Basics and Computer Literacy Level 2 - Internet Basics.
Recommended Websites
Mousing Around
http://www.pbclibrary.org/mousing/
Palm Beach County Library's excellent class on using the computer mouse.
Ratatype 
https://www.ratatype.com/
Use this free site to practice keyboarding.
GCF Learn Free 
GCF Learn Free offers tutorials and videos on computers and devices, from very basic to advanced subjects.
http://www.gcflearnfree.org/topics
DigitalLearn.org Disponibles en español. 
Free classes for those that are new to computers, haven't used them for a while, are a little unsure and uncomfortable, or just need a bit of a refresher. Available in Spanish.
http://digitallearn.org/learn
Microsoft Video Classes
www.microsoft.com/en-us/digital-literacy
Microsoft offers online classes on computer literacy and the Internet.