Update Regarding Hoopla Monthly Borrows
 Starting June 1, 2023, the Library will reduce the number of monthly Hoopla borrows from 12 to 8.  Digital content is constantly changing and growing in popularity.  This change will allow the Library to continue to offer a wide range of digital collections that fits our budget.
 We encourage you to make the most of your monthly Hoopla borrows, including Binge Pass which offers 7 days of unlimited streaming for just one borrow.  We will continue to provide a variety of e-content options to meet your needs and invite you to explore our other digital offerings, such as Libby and Kanopy.
 Thank you for your understanding and continued support of the library. If you have any questions or concerns, please don't hesitate to reach out to our staff.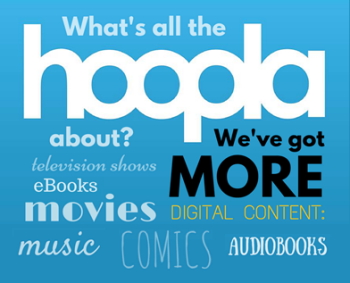 Instantly borrow free digital movies, music, eBooks, comics and more, 24/7 with your library card.
Freedom starts here, now. Camden County Library is now providing you hundreds of thousands of movies, tv shows, full music albums, audiobooks, ebooks and digital comics,courtesy of hoopla!
From Hollywood blockbusters to best selling artists and authors – not just the hits, but the niche and hard-to-find as well – you'll soon discover that hoopla provides you the freedom you've been searching for to experience, explore and enjoy what you want, when you want, and where you want.
Simple to access and use, without the hassle of having to return the items you've borrowed, all you need is your library card, a web browser, smart phone or tablet to get started.
Getting Started | The Collection: Movies & TV Shows, Music,  Comics, eBooks, Audiobooks | PC/Mac or App | Supported Devices | Kids Mode 
In this video,  Librarian Terry has created instructions on signing up for a free digital library card, signing up for a hoopla account, and borrowing materials in hoopla.
The first time you use hoopla you will create an account, entering your email address, a new password, and your library card number.  After that first time you will log into hoopla with just your email address and password. 
All items are available at any time - there are no waiting lists! Library cardholders will be allowed to borrow up to 12 items every month.  It doesn't matter how many of each type of item you have. You can check out any combination of movies, eBooks, audiobooks, comics, and music, but when you have checked out 12 items you are done for the month.  You will get 12 more checkouts on the first of each month. You can borrow titles though the hoopla digital mobile app or website by browsing all available content. Once you select a title you can click on the Borrow button on the title details page. Once a title is borrowed, it will be added to your My Titles menu. From there, you can play or view the title on your mobile device or PC/Mac. 
Ebooks, comics, and audiobooks may be checked out for 21 days.  Music albums are available for 7 days.  Movies and television shows may be checked out for 3 days.  The titles will automatically expire - you do not need to return them.
You can browse through all the titles in the collection, or  search just the music, or movies, or TV shows, or comics, or eBooks, or audiobooks.  Search by artist, author, narrator, illustrator,  or title, or browse by genre, or featured  and most popular titles.  Once you find a title you like you like you can borrow it or add it to your favorites.  You can also share it on Facebook and Twitter. 
Hoopla Movies and TV

There are more than 8,000 movies and 12,000 TV shows, including complete series, in the hoopla collection. Want to know what other people think of the show?  Many titles include Rotten Tomatoes reviews.
On a PC or Mac, movies stream in your browser.  While most browsers work with no additional plug-ins, if you are using Safari or Firefox you will be prompted to install the Widevine plug-in.  If you are viewing through the app, you can download a temporary copy of the movie to watch when no wireless is available. Videos can be viewed for 3 days after borrowing.
Go to the Television Collection.
Hoopla Music

With more than 250,000 titles you're sure to find what you're looking for!  Music is played in a pop-out audio player. This allows you to continue browsing hoopla, or using your web browser normally. Make sure you have enabled pop-up windows on your web browser to listen to music; and that you have enabled Flash in  your browser. To shuffle songs in an album, or all the albums you currently have checked out, click the blue shuffle button. Music albums can be borrowed for 7 days.
Go to the Hoopla Music Collection.
Hoopla Comics

There are over 4500 comics/graphic novels in the hoopla collection, including titles for children and adults.  Titles include the Walking Dead collection, Dark Horse Comics, DC Comics, Peanuts, Valiant, and many more. When you are using a PC or Mac you can use Action View, which enables full-page and panel-by-panel views.  Comics can be read for 21 days after borrowing. 
Hoopla Audiobooks

There are over 20,000 downloadable audiobooks in the hoopla collection. Audiobooks are played in a pop-out audio player so you can continue to use your web browser normally. Make sure you have enabled pop-up windows on your web browser, and that you have enabled Flash in your browser. Audiobooks can be used for 21 days after borrowing.
Go to the Audiobook Collection.
Hoopla eBooks

There are over 60,000 adult and kids' eBooks in the hoopla collection, including hundred of Disney titles. eBooks can be read for 21 days after borrowing.
Kids Mode
If you want to only see results for children log into  hoopla with the account you created (see instructions).  Then click on "Settings" at the top of the page.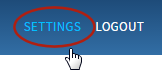 Click on the "On" option next to Kids Mode.

If you want to search for adult items you will need to turn the Kids Mode off in the settings.
PC/Mac | Android | Apple (IOS)
On a PC or Mac, all titles will be streamed through your web browser.  (Most browsers will show the content with no additional steps. If you use Firefox or Safari you will be prompted to download the plug-in Woodvine Media Optimizer.) 
There are apps for both Android and IOS phones and tablets.  If you are using the app you are able to stream or download a temporary copy of the items you have checked out for viewing offline. The hoopla digital mobile app can be found in the Google Play store on your Android device, and the Amazon Appstore on your Kindle Fire HDX tablet. Search for "hoopla digital" to find and download the app.  
| | | |
| --- | --- | --- |
| IOS (Apple) | Android | Kindle Fire |