Virtual meeting rooms through Zoom are also available.
Make reservations at rooms.camdencountylibrary.org.
How to Reserve a Meeting Room
You will need to do a one-time registration to use our Events and Meeting Rooms.  If you have already registered for programs using our Event Calendar you're all set!  Go to rooms.camdencountylibrary.org and click the "LOG IN / SIGN UP" button at the top right or the login link in the red bar.  Use your email and password to log in.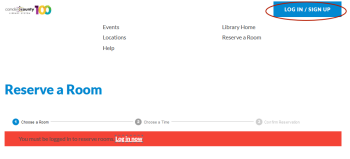 If you don't have an account yet, after clicking the "Log in/ Sign up button" click on the "Create new account" link and follow the instructions to create an account and log in. You can enter a number of fields to customize your account, but the only mandatory fields are email, name and password.  If you want to show certain branches' meeting rooms at the top of the list, choose them in the "Favorite Locations" section.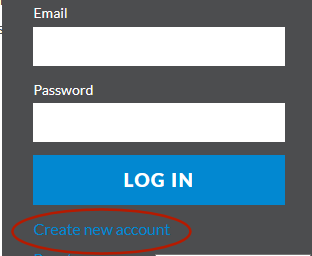 On the Reserve a Room page you can pick the meeting room first or you can search by date.  To search for the schedule of just one room, click on the "Reserve" button next to the room name.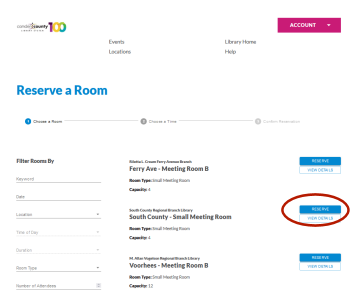 If you want to search all the rooms for the date you need, click on "Date" on the left side of the page.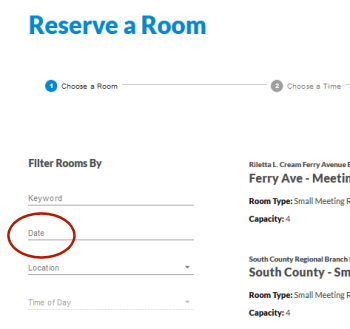 A calendar will open up to choose your date.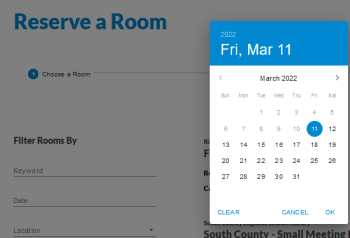 Any meeting rooms that have space available on that day will show up in the right column.  You can also narrow down your search further.  If you click on "Time of Day" you can limit to morning, afternoon, or evening.  Click on "Location" if you only want to look at some branches.
Once you have the meeting room schedule open for the room you have selected, choose a date and start and end time.  Click on the "Next" button.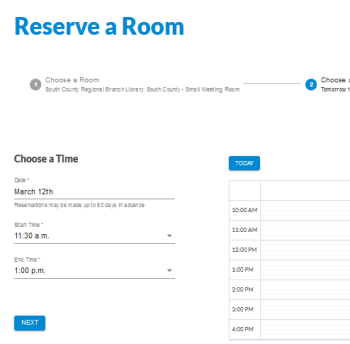 On the next page enter your information and agree to the Terms of Service. 
A window will popup to confirm the reservation.  Click on "Submit."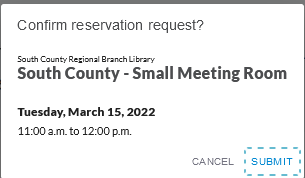 You will get a  message that your reservation has been approved.