Print from a Web Browser using SmartAlec
For instructions, watch the video or follow the step-by-step instructions below. 
1. Go to www.camdencountylibrary.org/mobileprint (link opens in new window).
If you already have a SmartAlec account, log in with your library card number or your email address. (If you haven't created a SmartAlec account yet, see instructions here. )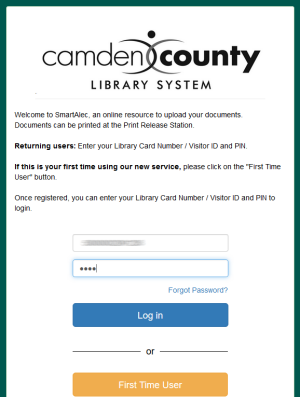 2. Under "Select a file to upload", click "Browse…" and find the document you want to print.  Click the "Upload" button.
(Only pdf, doc, docx, xls, xlsx, ppt, pptx, csv, txt, html, rtf, jpg, png, and bmp files are allowed. You can't upload a document with a special character in the filename.)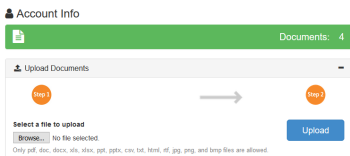 3. All the documents you select to print through SmartAlec will show up at the bottom of the webpage.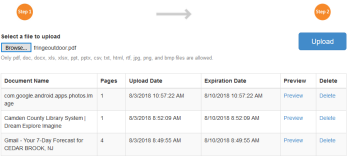 4. Your documents are now ready to print at the library. Head to your local branch during no-contact pickup hours, call the branch, tell the staff person that you have come to pick up printouts, and give your library card number.  Your printouts will be delivered in a bag with your library card number on it.  Detailed instructions for no-contact pickup.