Computers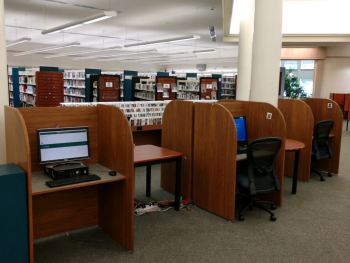 Library buildings are beginning to open on a limited schedule.  We have removed and rearranged furniture and computers in our branches to help visitors maintain safe distances.  A limited number of computers will be available for express, self-service use.  Library staff may provide only limited assistance from a distance of 6 feet. Computer time will not be extended. Computers shut down 10 minutes prior to closing time.
You may reserve a computer for one 30-minute session per day by calling your branch up to 7 days ahead of time and giving your library card number. If you do not have a library card, you can call on the day of your visit to request a reservation using a guest pass.
Phone numbers to make computer reservations.
    ♦ Bellmawr: 856-931-3471
    ♦ Camden Downtown: 856-225-6807
    ♦ Ferry Avenue: 856-342-9791
    ♦ Gloucester Township: 856-228-0022
    ♦ Haddon Township: 856-854-2752
    ♦ Merchantville: 856-665-3128
    ♦ South County: 856-753-2537
    ♦ Vogelson: 856-772-1636 x7365
Reservations will be honored for five minutes, and then the reservation will move on to the next guest. If you do not have a reservation, you can sign on to any available computer for a 30 minute session. If there are no available computers, you can sign up for a reservation for the next available computer at the Circulation Desk. Hand sanitizer must be used both before and after using a shared keyboard.
You may print, fax, or photocopy up to 20 pages per day at no charge. Please ask library staff for assistance.