Use Library Database: Novelist |  Book Lists & Award Winners | Comics/Manga | eBooks and Audiobooks | Summer Reading Lists | Teen Book Websites  | Zines 
Book Lists and Award Winners
Camden County Librarians put out a Teen Reads Newsletter each month. Click on the carousel above to see the latest newsletter. Subscribe to get the newsletter in your email each month.
American Library Association's Top 100 Books for Teens
Includes both fiction and nonfiction titles.
Laugh Out Loud Reads for Teens
YALSA Best Fiction for Young Adults
From the Young Adult Library Services Association.  You can also search all their awards and book lists here. 
Award Winners
Alex Awards
These awards honor the top ten adult books for young adults published during the award year.
Garden State Teen Book Awards
Each year New Jersey teens can vote for the winners of the Garden State book awards.  Vote at this link.
The Harvey Awards
https://www.facebook.com/theharveyawards/
The Harveys recognize comic book outstanding achievements in over 20 categories.
Margaret A. Edwards Award
The Margaret A. Edwards Award, established in 1988, honors an author's lifetime achievement for writing books that have been popular over a period of time.
Printz Award
The Michael L. Printz Award is  a book that exemplifies literary excellence in young adult literature.
Teen Top Ten
Selected by teens - sponsored by The Young Adult Library Services Association (YALSA)
The Will Eisner Awards
https://www.comic-con.org/awards/eisner-awards-current-info 
The Will Eisner Comic Industry Awards are considered the "Oscars" of the comic book industry.  The awards are given out in more than two dozen categories covering the best publications and creators of the previous year.
Use a Library Database
Novelist
Trying to figure out what to read next? This database gives recommendations and reviews based on what you like now. It includes Author Read-alikes, Book Discussion Guides, BookTalks, and Feature Articles.  Use your library card for access.  When you are on the Novelist homepage, click on a Teen tab to just see recommendations for young adults.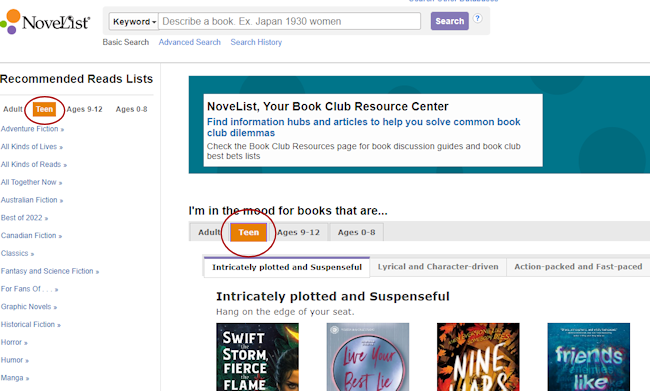 Comics/Manga
Search in the library's graphic novel collection.

Hoopla Comics
Did you know that Hoopla has an extensive digital comic collection to check out?  There are over 4500 comics/graphic novels in the hoopla collection.  Titles include the Walking Dead collection, Saga, Dark Horse Comics, DC Comics, and many more. When you are using a PC or Mac you can use Action View, which enables full-page and panel-by-panel views.  Comics can be read for 21 days after borrowing. 
Absolute Anime
Hundreds of anime profiles, each containing information about anime characters, movies, OAV (Originally Animated for Video) series, and TV shows. There is also a section dedicated to anime that has been shown on U.S. television.
Comics.com
Over 90 different popular comics on the web.
DC Comics
Batman, Superman, Green Lantern, etc.
Marvel Comics
Spiderman, X-Men, Fantastic Four, and more.
No Flying, No Tights
A website reviewing graphic novels for teens.
Tokyopop
The largest publisher of English language manga in the world.
YALSA's Great Graphic Novels for Teens.
For the past 15 years the Young Adult Library Services Association has been releasing a list of the best new graphic novels for teens.
eBooks and Downloadable Audiobooks
Check out an eBook or eAudiobook. Read it or listen to it on your computer, tablet or phone  All you need is a library card.  They expire at the end of the lending period, so you don't need to return them! The library has two ebook collections, two downloadable audiobook collections and downloadable magazines.  Start here.
Summer Reading Lists
See the Summer Reading Lists  for 2022 from many Camden County schools. 
Teen Reading Websites
Epic Reads
https://www.epicreads.com/ 
 Favorite teen angst books
http://www.goodreads.com/shelf/show/teen-angst
Flamingnet.com Book Reviews
http://flamingnet.com
Students review preteen, teen, and young adult books for you.
Recommendations from YALSA (Young Adult Library Services Association):
Outstanding Fiction | Outstanding Nonfiction | Outstanding Books for the College Bound | Outstanding Drama | Outstanding Poetry
Zines  
Have you tried our digital magazines?  Choose from thousands of magazines through Libby. Get started here.
Teen Ink
http://www.teenink.com/
A magazine written for teens by teens.