Database Access Problems
Problems Connecting with a Database?  Please try these troubleshooting tips.   If you are still not able to connect to the database, please contact us for further assistance.
1. Check your Firewall settings. 
Turn off the firewall and then try accessing the database.  If it then works you will need to add the database address to your list of allowable sites. If it does not work or you don't have a firewall then….
2. Check for Internet Security Software
Programs like Norton Internet Security or McAfee will block some databases.  In Privacy Control you will need to allow outgoing private information and disable browser privacy while using the database.  If that does not work then...
3. Check for a Popup Blocker.
Databases like Heritage Quest will pop up a window for you to enter your library card number.  Most browsers have a popup blocker, as do other software programs.  Try holding down the Control key while clicking on the link.  Or allow popups for just the database site.
4. Check your Browser
See if your browser is blocking the cookies necessary for logging into a database.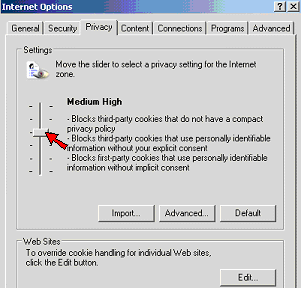 5. Change the Privacy Level on your Browser
There are a number of different browsers available, and each one has different instructions for changing privacy levels.  Generally you would need to go to a "Tools" link, and then an "Options" link.  You would then make sure that cookies are not blocked.  Often this can be found under "Privacy."   Use the Help link in your browser for more specific instructions - this is usually the last link at the right on the menu bar at the top of the page.
6. Clear Old files that are in your Browser's Memory.
Your browser may cache (save) webpages when you visit them in order to download them more quickly on subsequent visits.  Try deleting these files, which may be known as temporary files or browser history.  Use the Help link in your browser for more specific instructions.
Click on "Delete Files" first, which will clear all temporary internet files.  If you still can't get into your database try clicking on the "Delete Cookies".  Warning!  If you delete cookies you will erase any saved user names and passwords.  Make sure you know all your passwords before you delete any cookies.
If you have followed the steps above and you still can't connect with the database please contact the Webmaster.