See our Library Opening Updates to view the services that are currently available.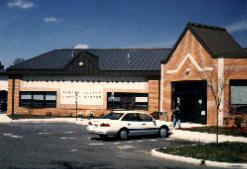 Anthony P. Infanti Bellmawr Branch
35 East Browning Rd.
Bellmawr, NJ 08031
Phone:856-931-1400
Open to the Public: 
Monday, Tuesday, Friday, and Saturday: 10 a.m. - 2 p.m.
Wednesday and Thursday, 4-8 p.m.
Please limit your visit to one hour.
No-Contact Pickup:
Monday - Thursday, 10 a.m. - 8 p.m.
Friday and Saturday, 10 a.m. - 5 p.m.
The Bellmawr Branch of the Camden County Library System opened in December 1997.  In July 2001 it was rededicated in honor of former Mayor Anthony P. Infanti, who was one of the driving forces behind the establishment of a County Library Branch in Bellmawr.  In addition to books, DVDs , CDs and downloadable e-books, the library provides computers for public use and a meeting room for use by community groups.  The Library shares the building with a clinic operated by the County Health Department.
The Library provides baby and toddler programs along with preschool story time, crafts and a variety of teen and tween programming.  Special events such as a Beach Party Lock-in  and Gingerbread Houses highlight each season.
---
Branch Manager

Debbie Stefano
Anthony P. Infanti Bellmawr Branch
dstefano@camdencountylibrary.org
856-931-1400
---
See photos of the Bellmawr Branch. More photos on Flickr.