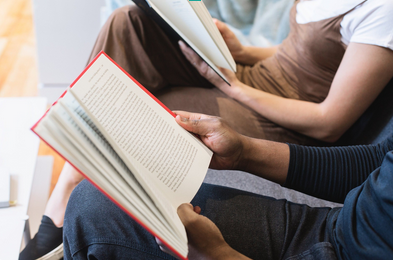 Sure – Camden County Library is your go-to spot for all the books you can possibly read!  But when you've finished, do you want to talk about what you read with fellow readers?  Did you know that we have adult book clubs for a variety of interests at a number of our branches?
The Vogelson Branch hosts four book clubs:
The Real Life Reads Book Group meets monthly, Tuesday at 7 p.m. We'll be talking about 

The Pirate Hunter: the true story of Captain Kidd by Richard Zacks

on January 16th.

  The Kennedy Eldermed Short Story Discussion meets every Tuesday at 1 p.m . The stories can be obtained at the information desk on the first floor. Take part in lively discussions of contemporary short stories.

The Literary Café Book Club meets monthly on Thursdays at 7 p.m. The next meeting is on January 25th where we'll discuss Before the Fall by Noah Hawley.

The Next Chapter Book Club meets weekly on Thursdays at 7 p.m. Adults and older teens with intellectual or developmental disabilities meet weekly to read and talk about books in a casual, enjoyable group.
The Gloucester Township Branch hosts the Third Thursday Book Chat at 10:30 a.m. On January 18th we'll be talking about Birdmen: The Wright Brothers, Glenn Curtiss, and the Battle to Control the Skies by Lawrence Goldstone.
The Haddon Township Branch offers two book groups:
The Speculative Reader: Science Fiction, Fantasy and More meets  monthly  on Tuesdays at 7 p.m. On February 13th we'll discuss

The Hobbit by J.R.R. Tolkien

.

Fourth Thursday Evening Book Discussion Group Thursdays, 7:15 p.m. On January 25th we'll talk about 

The Secret Keeper by Kate Morton

.
The Merchantville Book Chat meets monthly on Thursdays at 7 p.m. at Wegmans, located at Market Place at Garden State Park, 2100 NJ-70 in Cherry Hill.  There are no set reading requirements. We'll talk about the books we love, the books we can't stand, trends in literature, and anything else that comes up.
Join us!  No commitment necessary – you can come to all the meetings or you can pick and choose.  Find out more about all the book clubs.