When the library moves to our new catalog system your current reading history and lists will not be included as they are private and library staff cannot see them.  You can export the reading history and lists to your computer or email to refer to after we have moved to the new system.  (You will be able to start a new reading history and lists in the new CamCat.)
How to Export Your CamCat Reading History | How to Export Your Lists
How to Export Your Reading History
1. Log in to your CamCat account and click on My Reading History.
2. Click on Export Reading History.
3. Choose the format of the list and the destination. Choose Brief Display as the format type. 
If you are on your own device, select Local Disk. When you click Submit, a file called export.text that contains all your reading history will be downloaded.
You can also send the list to your email account. Choose E-mail as the location, and enter your email address. When you click Submit an email with your history will be sent to you.
4.  Click on "Select All" to export all the titles in the list. If you want to export some of the titles, click on the box next to that item in the "Mark" column. After you have chosen everything you want to export, click on "Submit."
How to Export Your Lists
1. Log into My CamCat and click on My Lists.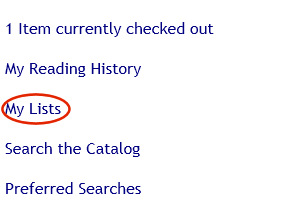 2. You will need to export each list individually.  Click on an individual list to open it.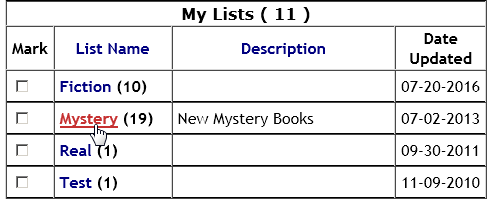 3. Click on "Request Multiple Items, Email or Print."

4. The rest of the process is the same as for exporting Reading History.  Follow these steps.
Please ask a staff member if you need assistance with exporting your reading history or lists.