NEWS RELEASE August 25, 2015
Contact: Mark Amorosi, Public Information Officer, (856) 772-1636 ext. 7323
mamorosi@camdencountylibrary.org      http://www.camdencountylibrary.org
September is Library Card Sign-up Month, Get one and get ready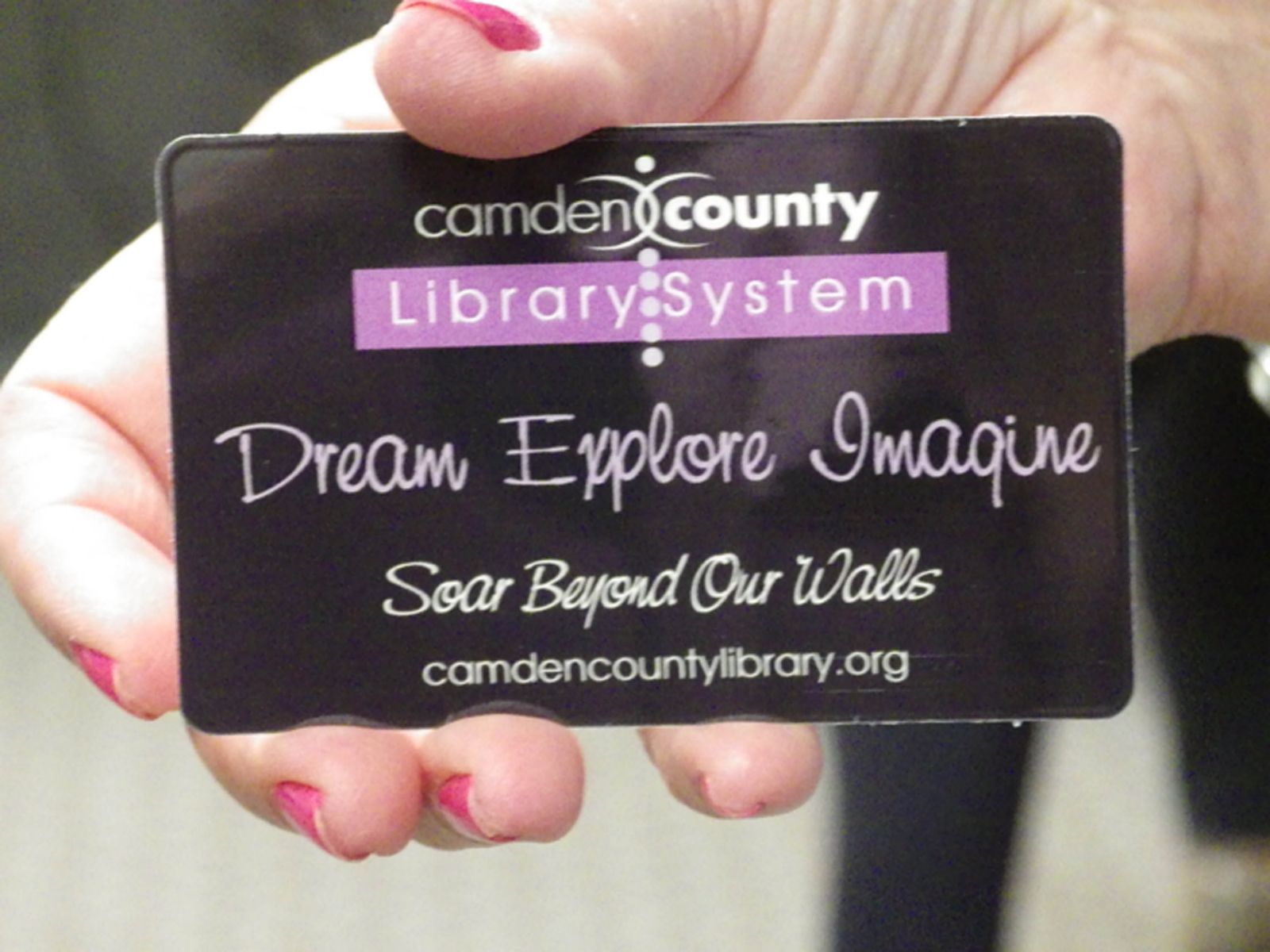 The Camden County Library System urges everyone to get a library card as the new school year begins. (Camden County Library Photo/Mark Amorosi)
VOORHEES, NJ – August 25, 2015 – Studies show that students who use the library perform better in school. September is Library Card Sign-up Month, a time when the Camden County Library joins with the American Library Association and public libraries nationwide to make sure that every student has an essential school supply – a free library card.
Camden County Library offers online homework help from any Internet connection, free access to Tutor.com, on-site tutoring at some branches, downloadable e-books and programs that encourage early literacy even before children start school.
Kid's Zone and Teen Space are special sections on the library's website that include homework help in a variety of forms. Resources organized by different subjects and multi-subject sources can be accessed from these pages. Go to http://www.camdencountylibrary.org/ and click on Using the Library at the top where visitors will find the Kids Zone and Teen Space menus that include links to Homework Help pages.
For more specific help on a homework assignment or problem, card members can get free live, one-on-one help through Tutor.com at http://www.camdencountylibrary.org/tutor . The Nilsa I. Cruz-Perez Downtown and Riletta L. Cream Ferry Ave. branches offer homework clubs during the regular school year.
And starting in October, as part of the Camden County Library's early childhood literacy initiative, parents can join the  '1,000 Books before Kindergarten' program that includes guidance and incentives to get children reading early and ready for school. Registration for the program starts Oct. 5 at any of the library's eight branches.
"Our library provides access and programs for students of all ages," emphasizes Linda Devlin, director of the Camden County Library System.
"For preschool-age children we offer early literacy and lap sit story times to encourage school readiness. For older children and teens we supplement education with hands-on science, technology, engineering and math (STEM ) programs. We offer innovative makerspaces, and for older teens we have information and tools to help prepare for college. There's really something for everyone and it's all free with a library card."
Access to thousands of books and magazines at eight branches as well as newer electronic resources like downloadable books, audio books and digital magazines are the benefits of having a library card that adults can appreciate too.
Families who reside in 26 different member communities of Camden County are eligible to get a free library card. For a list of member communities go to http://www.camdencountylibrary.org/get-library-card .
###
Established in 1921, Camden County Library System seeks to meet the recreational, informational and educational needs of its customers with locations in Bellmawr, Camden, Gloucester Township, Haddon Township, Merchantville, Winslow Township and Voorhees.   The Library is governed and supported by the Camden County Board of Freeholders and the Camden County Library Commission.