NEWS RELEASE May 7, 2015
Contact: Mark Amorosi, Public Information Officer, (856) 772-1636 ext. 7323
mamorosi@camdencountylibrary.org
Allows access to multitude of collections and services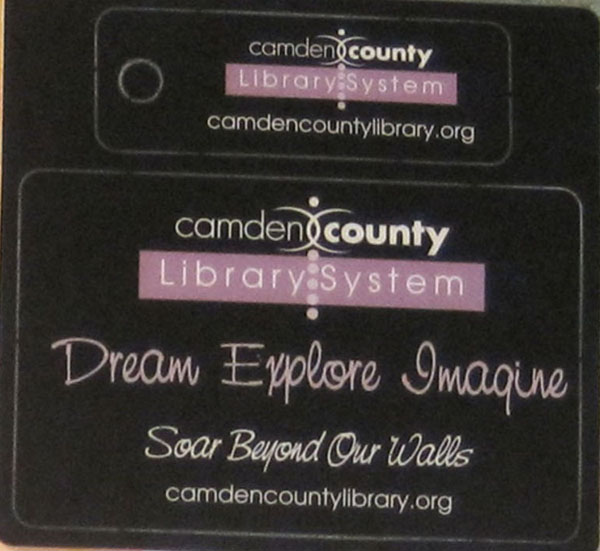 The Camden County Library System is offering free, temporary library cards to Haddonfield residents while their library is closed for renovations. The card gives access to a range of library materials and services in a variety of forms. (Camden County Library Photo.)
VOORHEES, NJ –May 7, 2015 –The Camden County Library System has been providing free, temporary library cards to Haddonfield residents as a courtesy while the borough's library is closed for renovations.
With the card residents have access not only to the collections of books, DVDs, CDs and audiobooks available at the library system's eight branches but to numerous electronic, online and downloadable resources as well.
Among the resources are digital magazines that don't have to be returned; downloadable e-books from two online services, OverDrive and Freading; downloadable music; digital audiobooks and streaming movies from renown film festivals through IndieFlix – all accessible with a valid CCLS Library card on the system's website at www.camdencountylibrary.org .
The temporary cards can be obtained through a simple application to CCLS either online or in paper form, and once issued the cards will be valid to the end of 2015.
Haddonfield residents may apply in person at their nearest CCLS branch or online at http://www.camdencountylibrary.org/haddonfield . Two forms of identification showing a current street address or one form of photo identification that includes a resident's address is required to make a proper application. When applying, children 14 and under need to be accompanied by an adult.
"We are only too glad to help Haddonfield residents while their library is closed for renovations," says Linda Devlin as CCLS director. "We welcome you to explore our services and visit any of our eight branches to take full advantage of card membership."
###
Established in 1921, Camden County Library System seeks to meet the recreational, informational and educational needs of its customers with locations in Bellmawr, Camden, Gloucester Township, Haddon Township, Merchantville, Winslow Township and Voorhees.   The Library is governed and supported by the Camden County Board of Freeholders and the Camden County Library Commission.