NEWS RELEASE May 6, 2014
Contact: Mark Amorosi, Public Information Officer, 856-772-1636 ext. 7323
mamorosi@camdencountylibrary.org      http://www.camdencountylibrary.org
Vivid illustration adorns delivery van as it makes its rounds to eight branches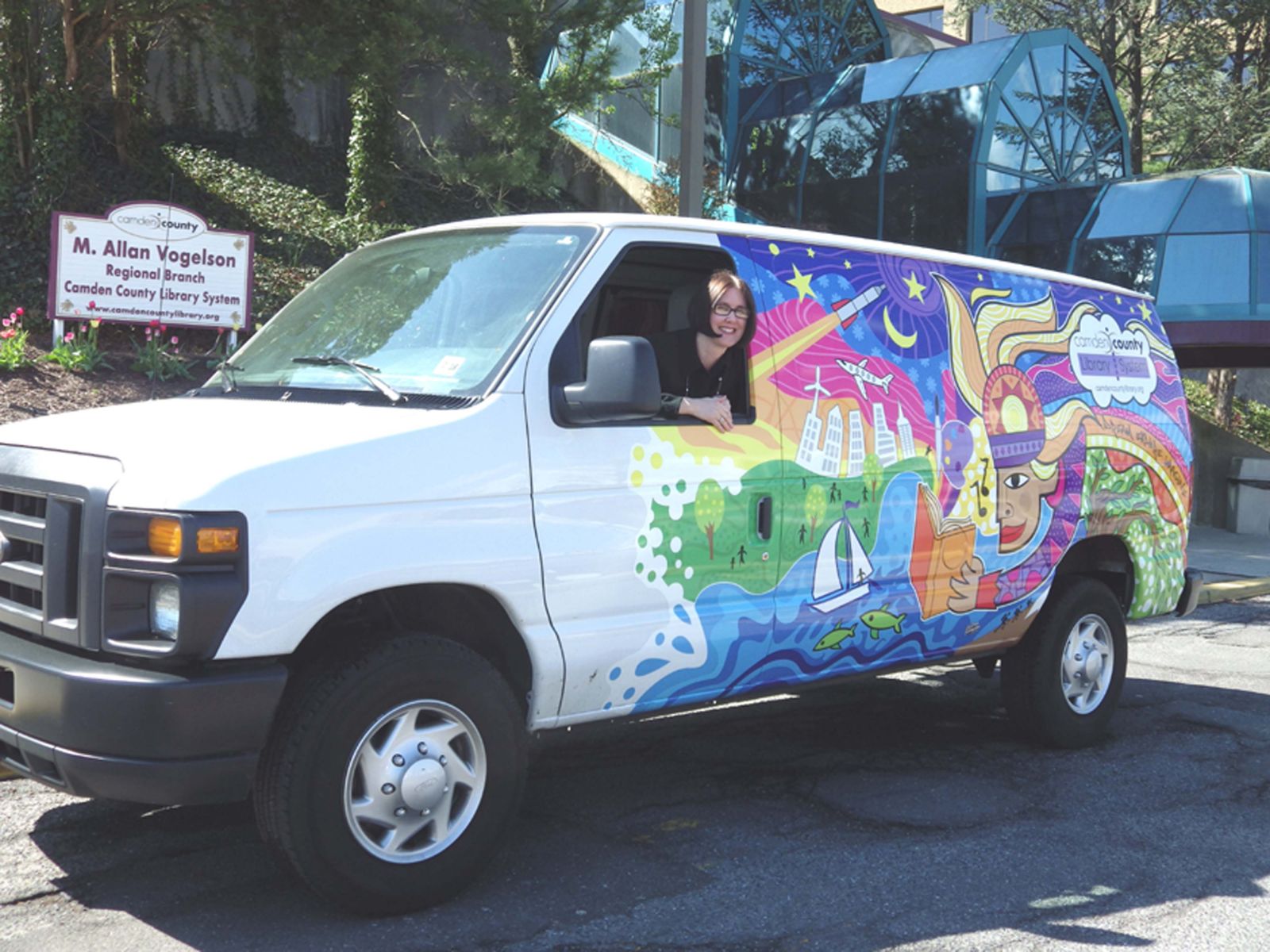 Camden County Library Director Linda Devlin proudly shows off the new illustration that adorns one of  the library system's delivery vans on Friday, May 2, 2014 in front of the M. Allan Vogelson Regional Branch Library in Voorhees, NJ. (Camden County Library photo/Mark Amorosi)
VOORHEES, NJ – May 6, 2014 – One of the Camden County Library System's two delivery vans displays a colorful makeover designed by a New Jersey artist whose work has been featured, used and exhibited nationally.
The colorful illustration adorning the van conveys all the possibilities libraries represent and captures the spirit of the library's motto, "Dream, Explore, Imagine."
"I think the van illustration is a wonderful way to get the public's attention and advertise what our libraries have to offer. Its colorful presence on our local roadways is a welcome sight this spring after the long, hard winter we've all endured. It's an invitation and a reminder to visit your local library," explains Linda Devlin as Director of the Camden County Library System.
About the Artist
Dan Fenelon trained at the Arts Student League in NY and the Museum School of Fine Arts in Boston. He has had seventeen one-man shows in galleries from Chelsea NYC to LA California. He has produced giant murals in different states and had a featured mural exhibit at the Montclair Art Museum.
In 2012 Fenelon designed the ornaments for New Jersey's tree at the National Christmas Tree Display in Washington DC. His artwork was also featured at Major League Baseball's Fancave in NYC.
In 2010 Fenelon was commissioned to create a large scale mural to welcome the Dalai Lama to the Newark Peace Summit. In that same year he was commissioned to paint another large scale mural in the city of Grand Rapids MI.
###
Established in 1921, Camden County Library System seeks to meet the recreational, informational and educational needs of its customers with locations in Bellmawr, Camden, Gloucester Township, Haddon Township, Merchantville, Winslow Township and Voorhees.   The Library is governed and supported by the Camden County Board of Freeholders and the Camden County Library Commission.
New Jersey artist Dan Fenelon in his studio with one of his pieces. Fenelon designed and created an illustration for the Camden County Library van that delivers to eight different branches on a daily basis. (photo courtesy of Fenelon Design, Inc.)