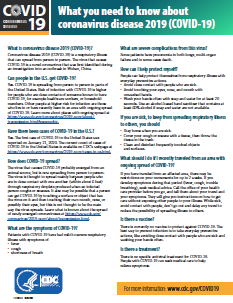 "The coronavirus disease 2019 (COVID-19) is a new type of coronavirus. It causes respiratory illness in people. It was first identified in Wuhan, China.
COVID-19 can spread from person to person. This usually happens through respiratory droplets – when someone with the virus coughs or sneezes, and you breathe it in. Most often, you need to be close to the person (within 6 feet) for it to spread this way. It might be possible to get COVID-19 by touching a surface or object that has the virus on it and then touching your own mouth, nose, or possibly your eyes. But this is not thought to be the main way the virus spreads. " MedlinePlus
For current information on the novel coronavirus, please check out the resources listed below.
Where to Find Up-to-Date Coronavirus (COVID-19) Information on the Web
Centers for Disease Control and Prevention | Camden County | New Jersey | National | International | Travel | Miscellaneous
 
Centers for Disease Control and Prevention