Computers for Public Use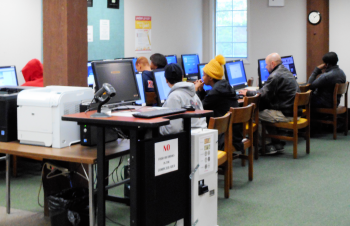 Throughout the library system we offer access to computers and the Internet for patrons. Patrons with library cards may go directly to a computer and sign on.  Those in nonmember communities may request a visitor's card for the day's visit from the staff desk.
Computers for adults and children are available at all our branches during open hours.  All computers have Internet access and Microsoft Office installed.  All computers shut down ten minutes before library closing time. 
At the Vogelson Branch there are four computers on the second floor that are for research only and link to the library databases.