Searching for Hoopla Titles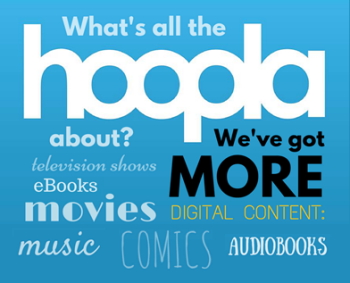 Camden County Library System offers Hoopla, which has ebooks, ecomics, audiobooks, movies and TV. The Hoopla collection is very extensive, and Hoopla sends us records for the most popular titles. If you want to see all of Hoopla records, you need to use their website or mobile device app.
When you search CamCat, Hoopla (and Overdrive) titles that are in our catalog will be included in your search results.  If you want to check out this content right from CamCat, log into My CamCat before you begin your search.
When you do a search in CamCat and there are Hoopla or Overdrive titles, link(s) will appear at the top of the search results with the number of search results for the econtent results for these services.  Click on the Hoopla link to see only Hoopla titles.
A box will pop up with the Hoopla results. (Don't see the box?  Make sure you don't have a popup blocker enabled in your browser.) You can scroll through to see titles you may want to check out.  Click on the "Show/hide details" button to see a book summary.  Click on the "Checkout" button to check out the title. If you're done checking out Hoopla titles, you can click on the book jacket to go directly to Hoopla to download the title. 
You can see and access all the Hoopla titles you've checked out in My CamCat.  When you log in, you start at the "my summary" page, on the "Checked out" tab.  Click on the "Hoopla Account" tab. You will see your current checkouts. Click on the title hyperlink to be brought to Hoopla.
If you have your login saved on Hoopla, you will see a link to read or download your checkout. Click on the blue link to begin reading or listening.  If you're not logged in, you wil see a button to log in.