NEWS RELEASE November 23, 2015
Contact: Mark Amorosi, Public Information Officer, (856) 772-1636 ext. 7323
mamorosi@camdencountylibrary.org http://www.camdencountylibrary.org
Library card-holders can use Hoopla to get content on smart phones, tablets, PCs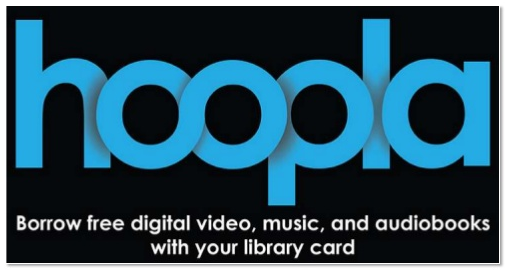 The Camden County Library System will be offering cardholders free access to Hoopla starting in December 2015.
VOORHEES, NJ – November 23, 2015 -- The Camden County Library System will provide card holders free access to thousands of digital movies, television shows, music albums, eBooks, audiobooks and comics, all available for mobile and online access through Hoopla digital (hoopladigital.com) beginning in December 2015.
Camden County Library card holders can download the free Hoopla digital mobile app on their Android or iOS device or visit hoopladigital.com to enjoy thousands of titles – from major Hollywood studios, record companies and publishers – available to borrow 24/7, for instant streaming or temporary downloading to their smartphones, tablets and computers.
"We're very excited to offer free access to over 300,000 movies, albums, eBooks and comics that our patrons can stream and download without having to worry about waiting lists or late fees," says the library's Collection Development Manager, Ryan Lammers.
"I'm especially pleased to announce that this will be the library's first foray into digital comics and graphic novels. The selection of comics available through Hoopla is impressive, including popular titles like "The Walking Dead," "Saga," "The Flash," "Hellboy," "Suicide Squad," "iZombie," "Fables," "Peanuts," and a lot more! I expect it to be very popular," notes Lammers.
Meeting the Public's Changing Media Habits
Hoopla provides online and mobile access to thousands of movies, TV Shows, music, eBooks, audiobooks and comics free to library-card holders. With hoopla digital, patrons can borrow, instantly stream and download dynamic content.
The library is subscribing to Hoppla as way to offer more digital content in forms that are convenient and compatible with how people access content now. All content is accessible via Hoopla digital's mobile app and online at hoopladigital.com.  A login with a valid library card number will be required.
For more information, please visit the library's website: www.camdencountylibrary.org/hoopla .
Residents in 26 Camden County communities are eligible for a free library card. Learn more at http://www.camdencountylibrary.org/get-library-card .
###
Established in 1921, Camden County Library System seeks to meet the recreational, informational and educational needs of its customers with locations in Bellmawr, Camden, Gloucester Township, Haddon Township, Merchantville, Winslow Township and Voorhees.   The Library is governed and supported by the Camden County Board of Freeholders and the Camden County Library Commission.