Become a Tutor
Please email Susan Mulholland at smulholland@camdencountylibrary.org to be notified when we have scheduled our next series of tutor training.
---
"It is one of the most beautiful compensations of this life that no man can sincerely try to help another without helping himself."  Ralph Waldo Emerson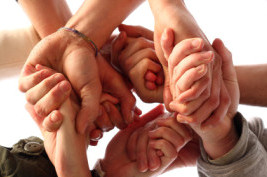 Robert lost his job in the economic downturn. Now he needs to pass a literacy test in order to qualify for job training in a new field.
Kim, a young mother of three, doesn't have the English skills to speak to her children's pediatrician. In an emergency, she couldn't even speak to a 911 operator.
Brian depended on his wife to handle all the family's bills and correspondence. She recently passed away and now, at age 55, he must learn to read.
Robert, Kim and Brian are your neighbors in Camden County. Their backgrounds differ, but they have one thing in common. All three are functionally illiterate. They can't read or communicate in English. An estimated 55,000 people in our county share their handicap. They are unable to read food and medicine labels, follow safety instructions, fill out job applications, choose an appropriate greeting card.
But they can get free, confidential instruction through Literacy Volunteers of Camden County and you can help!
If you are 18 years of age or over and have two hours a week to spare, you can help a neighbor learn to read, write, do math and/or speak English. No previous experience is necessary and you do not need to speak a foreign language. Join our growing family of 150 active tutors. You will enrich your life while you are helping your student to fulfill his goals.
Literacy Volunteers of Camden County offers free Training Workshops to teach volunteers how to become tutors. During this 12.5 hour, five-part workshop you will be introduced to our two programs - English as a Second Language (speaking and understanding English) and Basic Literacy (learning elementary reading or math skills). You will learn how to determine an instructional starting point, as well as how to tutor utilizing our methods and materials. All books and materials are provided at no cost, and ongoing staff support is available.
The LVCC program is student-centered and encourages volunteers to build on the wealth of understanding that the adult learner brings to each session.
As the Workshops progress, you will choose to become either an ESL, reading or math tutor. Then you will be matched with a learner who can meet at a mutually acceptable time and place. Our tutors are offered on-going professional support and in-service workshops. Under no circumstances can our tutors solicit money, goods or services from their students.
Click here to be notified for the next session.